Toyota Land Cruiser 4.2 Double Cab Diesel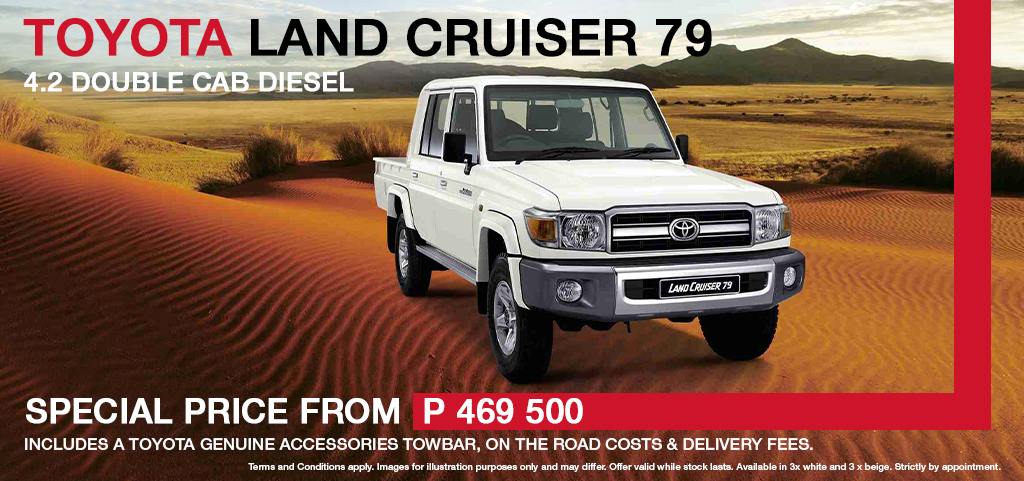 BRAVELY COMBAT THE TERRAIN
The indestructible Land Cruiser 79 surrenders to no challenge; it is steadfast and bold. This vehicle is built to perform and work as hard as you do, which is why it has been at the helm of 4x4 African motoring for more than 60 years. Tackle the toughest terrain with ease behind the wheel of the Toyota Land Cruiser 79 4.2 Double Cab Diesel.
The Land Cruiser 79 Double Cab comes equipped with the durability of the Land Cruiser 79 Single Cab and the extra advantage of rear seating space in the cabin. The Double Cab is multi-functional - it's strong enough to carry heavy loads and is versatile enough to transport five occupants in comfort. Get anyone or anything, anywhere, with comfort.

Contact Halfway Toyota Ngami today to book your test drive.
Terms and Conditions apply. Images for illustration purposes only and may differ. Offer valid while stock lasts.
Available in 3x white and 3 x beige. Strictly by appointment.
Terms and conditions apply.