All-New Toyota Rumion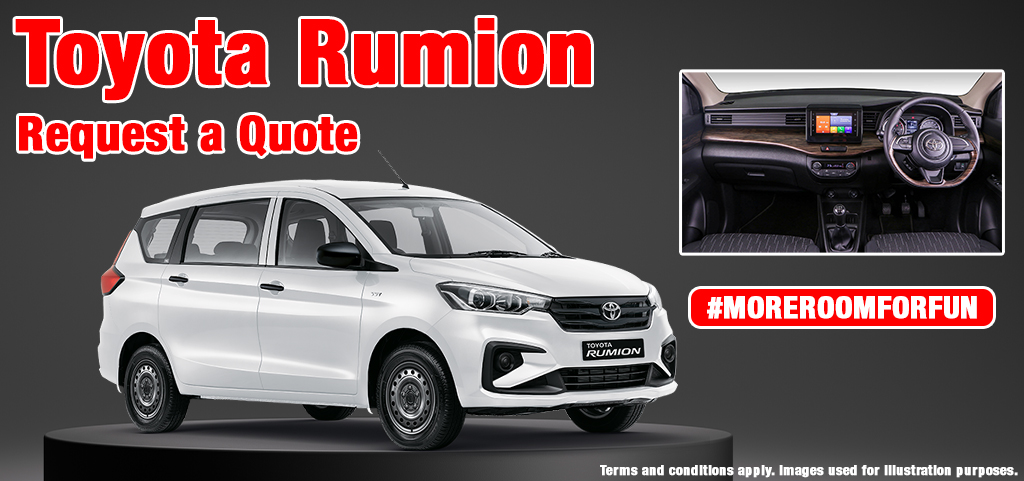 Elegance and convenience wrapped in one perfect vehicle.
Meet the new addition to the Toyota range, a vehicle you need to get
acquainted with; The Toyota Rumion.

Exterior:
The Toyota Rumion has a wide front grille that flows into the halogen
headlamps giving the vehicle an elegant and luxurious design.

The S model comes with a black front grille and the SX and TX models
are finely crafted with a chrome grille ensuring your presence is
known no matter where you are on the road.
The TX has front fog lamps that are integrated with the lower grille
which enhances the style of the Toyota Rumion.

The S model comes with a black outside door mirror which can be folded
in manually, and the SX and TX models come with colour coded mirrors
that are electric and can be adjusted according to preference and
convenience.
Side
The Toyota Rumion side styling has bold and expressive curves which
accentuate the strong design of the vehicle.

Rear
The rear design features large 3-dimensional LED rear combination
lamps that complement the vehicles large body.
The Toyota Rumion has bumper sidelines that give the vehicle its bold
appearance.
To add to the vehicle's exterior styling, the TX also comes standard
with front and rear mudguards as well as a chrome back door garnish.

Wheels
The Toyota Rumion range is available with 15-inch wheels and each grade
will have a different wheel design, the S and SX models are available
in steel wheels and the top of the range TX will come standard with
alloy wheels, which enhance the vehicle's exterior styling.

Design
The S and SX models have a black polished instrument panel and a black
interior throughout the vehicle with silver accents for a more refined
finish.

The top of the range TX model has a wood-like design that extends from
the dashboard to the front side doors sharpening the black interior
for providing that added luxury feel.
In the Comfort, the seats are cushioned and curved, which enhances comfort for
a more relaxed journey.

Contact us today to enquire. All Covid-19 regulations are in place for
your safety.
Terms and conditions apply. Images used for illustration purposes only.